Help us build the future with our mission for HealthTech
At DesAcc, we are a people first company and have a family culture. While we work hard, we certainly don't shy away from having fun and know how to have fun! Whether you're an introvert or an extrovert, the diversity & uniqueness found within our team support the growth of every member with us.
At DesAcc we are incredibly passionate about what we do here - unlocking data, freeing it from its bonds so that it can be used to make a positive difference to the lives and wellbeing of people around the world. DesAcc has been making the difference to healthcare organisations, hospitals, imaging centres, researchers and providers of healthcare services for almost three decades.
You're one step away from making the change that matters…
We invest in our people with professional development, sharpening skills and life-long learning. We also pay for professional memberships. At DesAcc, you won't be a small cog in a big wheel. We believe in trust, respect and responsibility. That means you'll be making a difference from day one, working on international projects from the get-go.
We unlock doors; Do meaningful, career - defining work and grow alongside one of Canada's & UK's most talented and ambitious Teams.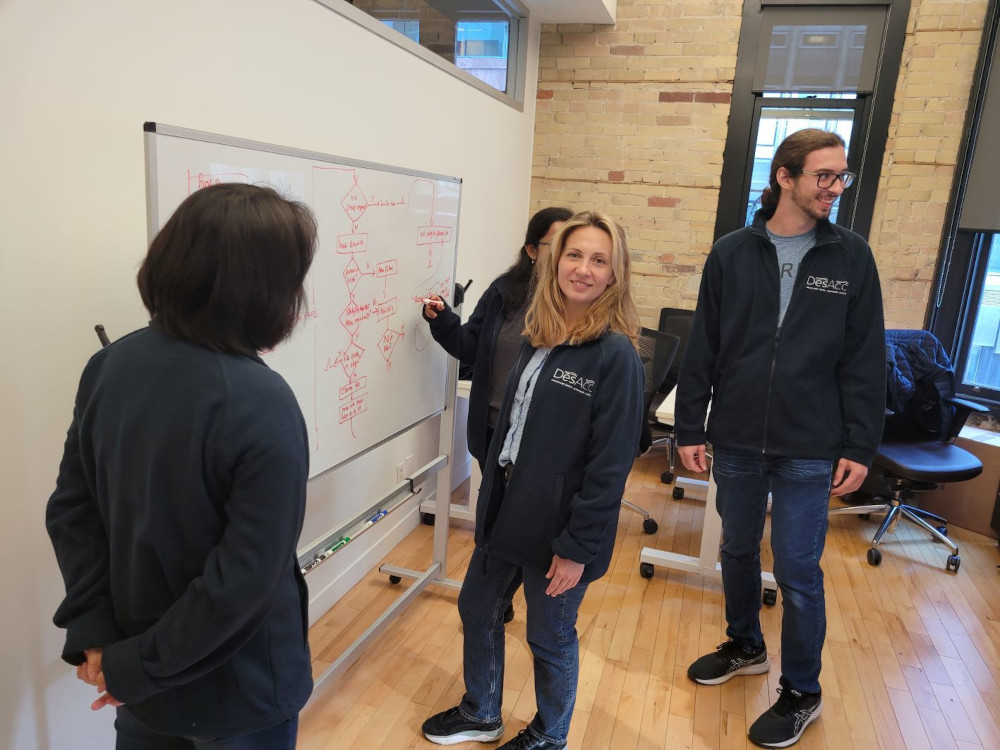 Core Values
We like to have fun
Which is why we have daily virtual coffee mornings, as well as monthly socials where we celebrate success and hang out
We invest in our people
With professional development, sharpening skills and life-long learning. We also pay for professional memberships
We take care of our team
With good pay, generous holiday entitlements, a company health and wellness scheme, a company pension, and company life insurance
Our hiring processes are transparent and designed to minimize bias
At DesAcc our hiring process is designed to be equitable for a diverse talent pool and to provide any necessary accommodations for all interviewees. We have put strategic methods in place throughout our interview processes to ensure we are a DEIB supporter; Diversity, Equity, Inclusion & Belonging.
If you are or want to be a team player, why wait. Check our open career opportunities and apply now! Can't find what you're looking for? No problem, we believe in great talent. Send us your resume and create a role/title based on what you know about DesAcc and tell us why we should move forward with you!
1
HR Manager
This is our meet and greet round with our HR manager. You will get to experience first-hand what we are all about and learn about the role; culture driven, employee first!
2
Senior Team Member
This is the exciting part! You meet with our team of subject specialists, now moving onto your expertise and learning more about your background with one our senior departmental team members.
3
Meet and Greet with a Founder
Now that you have learned we are an employee & culture driven organisation/company, and talked about the role in great detail it's time to meet one of the Founders to learn more about who we are and why we do what we do.